Gospeloratorium "Prince of Peace"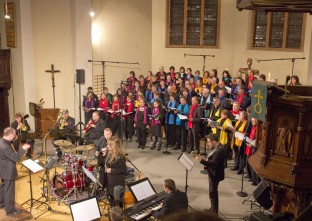 von Ralf Grössler
Symphonisches Gospeloratorium über Jesus von Nazareth für Solo, 2 Chöre und Orchester.
Ralf Grösslers sinfonisches Großwerk "Prince of Peace" schildert in vier Teilen den Lebensweg Jesu Christi. Die inhaltliche Parallele zu Händels "Messias" wird deshalb gerne gezogen. Die Musik lebt jedoch im 21. Jahrhundert und verbindet verschiedenste musikalische Stile zu einem gewaltigen Gesamtkunstwerk. Hier treffen Jazz und Blues auf barocken Kontrapunkt im Gospelgewand, monumentale Doppelchöre auf modernen Pop-Sound. Der Komponist geht, auf der Tradition barocker alter Meister fußend, handwerklich souverän mit dem Klangapparat um und führt ihn in eine moderne Tonsprache. Ähnlich verfährt Grössler mit dem Text: Die Kombination aus Bibelwort, freier Dichtung und Choral erinnert an den Aufbau Bach'scher Passionen.
Seine Botschaft: Frieden ist nur in Liebe und Vergebung möglich!
Dem klassischen Klang stellt Grössler Soul-Sängerin, Vibraphon und Saxophon entgegen. Er schafft so Raum für intime Bluesklänge und Improvisation.
Mitwirkende:
Jasmin Graf
—
Solo
Kammerorchester des RSK
Eine Band
Projektchor des Westsächsischen Gospelprojektes 2020
Ulrich Meier und Matthias Grummet
—
Leitung
15.11.2020, Sonntag

Beginn:17.00 Uhr, Einlass ab 16.30 Uhr

noch nicht bekannt